Hogging the gun control conversation
August 2019 began tragically in the United States of America, with
a deadly mass shooting in El Paso
, followed by
another one in Dayton
. As both involved
assault weapons
, the topic of
gun control
became a major talking point.
The official response to both shootings amounted to nothing more than
thoughts and prayers
, leading to many people complaining that more similar shootings would inevitably happen if nothing changed.
Musician
Jason Isbell
complained on
Twitter
that people blurring the debate by arguing about the exact definition of an assault weapon were part of the problem
[1]
.
In response, William McNabb, another Twitter user, replied in the following way
[2]
: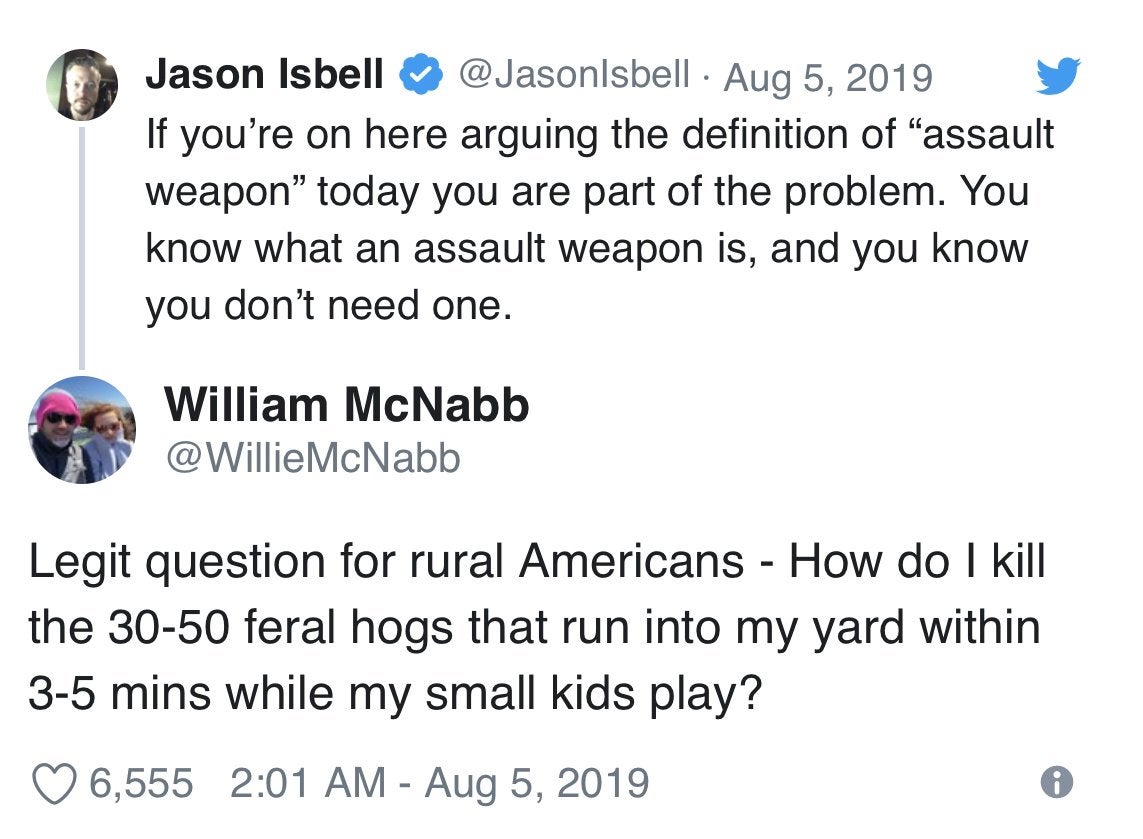 This bad faith argument got mocked by a lot of Twitter users, quickly spreading to other websites and turning into an instant
meme
[3]
. For a short while, all the
Internet
could talk about was 30-50 feral hogs
[4]
.
Was he wrong though?
Sure, McNabb's argument was in extreme bad faith, and he deserved to be mocked for the way he was derailing the gun control debate after people had died in mass shootings. But… could he have a point?
As it turns out, feral hogs are a legitimate issue in some regions of the USA
[5]
. Their population is growing fast
[6]
, and they are causing massive damages
[7]
. Their cost on agricultural lands alone is estimated at 2.5 billion dollars for the year of 2019
[8]
.
While McNabb was totally out of line, his point of view should be analyzed in the context of the feral hogs issue, which got so bad in the state of Texas that a law was passed which allowed hunters to use assault weapons in order to shoot at feral hogs from helicopters
[9]
.
Although a seemingly absurd hunting method, it could make sense to try literally anything given that we know of no efficient contraceptive method to slow down the growth of feral hog populations
[10]
. However, other states have experimented with hunting wild hogs before and came to the conclusion that mass hunting does nothing to slow down their population growth, which makes the method as inhumane as it seems
[11]
.
Was McNabb wrong to make his point in this specific context? For sure. To want to hunt feral hogs with assault weapons? Absolutely, it's overkill. To think that feral hogs are a legitimate threat worthy of being scared for his children's life? Maybe he does have a point there. Wrong place wrong time to make it though.
Popularity
Copypasta
A variation of the
navy seal copypasta
was made on the theme of 30-50 feral hogs. Feel free to use it whenever you want to mock people who defend the usage of assault weapons in absurd or irreverent contexts.
It contains a solid amount of swear words and a very aggressive tone which might make it
NSFW
.
What the fuck did you just fucking say about my kids, you little swine? I'll have you know I graduated top of my class in the Texan Hog Wranglers, and I've been involved in numerous secret raids on feral hogs, and I have over 30-50 confirmed kills. I am trained in porker warfare and I'm the top shooter in the entire rural American hog hunters lodge. You are nothing to me but just another hoglet. I will wipe you the fuck out with precision the likes of which has only been seen by my kids, mark my fucking words. You think you can get away with saying shit to me in my yard? Think again, piglet. As we speak I am contacting my secret network of slaughterhouses across rural America and your address is being traced right now so you better prepare for the storm, piglet. The storm that wipes out the pathetic thing you call your life. You're fucking dead, pig. I can be anywhere, anytime, and I can kill you in over seven hundred ways, and that's just with my AR-15. Not only am I extensively trained in armed combat, but I have access to the entire arsenal of my gun locker and I will use it to its fullest extent to wipe your bacon-wrapped ass off the face of the continent, you little pig. If only you could have known what unholy retribution your little "clever" comment was about to bring down upon you, maybe you would have held your fucking snout. But you couldn't, you didn't, and now you're paying the price, you goddamn swine. I will shit fury all over you and you will drown in it in 3-5 minutes. You're fucking dead, piggo.
Gallery
Sources & Links
[1]
The original argument
by Jason Isbell on Twitter.
[2]
The original message
by WillieMcNabb on Twitter.
[3]
30-50 feral hogs? Why Twitter memes are more positive (and much faster) than you might think
on The Conversation.
[4]
Why Is Everyone Talking About 30-50 Feral Hogs?
on GQ.
[5]
Think 30-50 feral hogs is a joke? Millions more are rampaging across the U.S.
on The Washington Post.
[6]
'30-50 feral hogs' guy feels vindicated after reports of California being overrun by pigs go viral
on Daily Dot.
[7]
What about the 30-50 feral hogs? Man's defense of assault weapons goes viral
on The Guardian.
[8]
30 to 50 feral hogs, explained
on Vox.
[9]
House Gives Final OK to "Pork Chopper" Bill
on The Texas Tribune.
[10]
An Evaluation of Contraceptive Viability in Wild Pig Management
by Josh Helcel for Texas A&M NRI.
[11]
Closing in on Feral Hogs
by Lauren Hildreth for the Missouri Department of Conservation.